We all know the struggle of absorbing information just by reading textbooks or listening to lectures. While some people thrive in this environment, others cannot learn this way.
The good news is that there's a solution that can make learning a lot more fun and effective, and that's through tactile learning.
The Science Behind Tactile Learning
Research has shown that tactile learning can significantly improve information retention. When we engage our senses — especially touch — we create stronger connections in our brains. Through these connections, we are more likely to remember and understand information better.
Tactile Learning Vs. Other Forms of Learning
While traditional learning methods such as reading and listening have their place, tactile learning is a dynamic and immersive approach that fosters a deeper understanding of various subjects. Here's how it differs from other forms of learning.
Tactile Learning Vs. Visual Learning
Visual learning primarily relies on images, graphs, and videos to convey information. Although this approach is effective for some, tactile learning goes further by incorporating physical interaction.
Instead of merely seeing a diagram of a plant cell, tactile learners can touch and feel a 3D model of it, enabling them to comprehend the structure and function on a more profound level.
Tactile Learning Vs. Auditory Learning
Auditory learning involves listening to lectures, podcasts, or audio recordings to absorb information. Tactile learning differs from auditory learning because students can experience hands-on physical engagement instead of simply listening.
So, rather than hearing about chemical reactions alone, tactile learners can conduct experiments, mix substances, and witness the reactions firsthand, allowing them to grasp the concepts through direct experience.
Tactile Learning Vs. Text-Based Learning
Text-based learning relies heavily on reading and writing, often involving textbooks and written assignments. At the same time, this approach is fundamental. Tactile learning supplements it by encouraging physical manipulation, such as building structures and testing their stability, thereby giving learners a practical understanding of the principles in action.
Tactile Learning as a Complementary Approach
It's important to note that tactile learning doesn't seek to replace other forms of learning but rather to complement them. By integrating tactile experiences into traditional learning methods, we can benefit from a more comprehensive and engaging educational journey.
While various learning methods have their merits, tactile learning is a powerful tool to reinforce concepts learned through other modalities, providing a well-rounded and multi-dimensional approach to education.
Why Tactile Learning Works for Us
As humans, we are wired to engage with the world around us through our senses, and tactile learning leverages this innate curiosity and instinctual desire for hands-on exploration. Here's how.
Engaging Multiple Senses
Tactile learning enables us to engage multiple senses simultaneously, including touch, sight, and sometimes even smell and taste. By involving various sensory modalities, tactile learning stimulates different brain areas, facilitating a more holistic and comprehensive understanding of the subject matter.
This multisensory approach not only enhances information retention but also fosters a deeper connection to the learning material, making the educational experience more vivid and impactful.
Encouraging Active Participation
Tactile learning encourages active participation and physical engagement, transforming passive recipients of information into active creators and explorers. By actively manipulating objects, conducting experiments, or building models, students actively participate in the learning process, which fosters a sense of ownership and empowerment.
This hands-on involvement creates a deeper connection and investment in the educational journey, leading to a more profound and lasting grasp of the concepts.
Facilitating Experiential Understanding
Tactile learning facilitates experiential understanding by providing tangible and concrete experiences that allow us to interact directly with the subject matter. Through hands-on exploration, we can observe cause-and-effect relationships, discover patterns, and experience the practical applications of theoretical concepts.
This direct experience not only deepens comprehension but also cultivates a sense of curiosity and discovery, fueling a lifelong passion for learning and exploration.
Catering to Diverse Learning Styles
As individuals, we have our learning preferences, and tactile learning is no different. Unlike other forms specific to the senses they exercise, tactile learning engages multiple senses simultaneously, allowing us to discover our strengths and hone them accordingly.
Whether you're a visual, auditory, or kinesthetic learner, tactile learning is an approach for you.
Fostering Creativity and Critical Thinking
Tactile learning fosters creativity and critical thinking. By engaging in creative activities such as crafting, building, or experimenting, we think innovatively, explore alternative solutions, and overcome challenges.
Therefore, this process of creative exploration not only strengthens cognitive abilities but also nurtures a mindset of adaptability and resilience, preparing us to tackle complex issues in both academic and real-world contexts.
Bringing Tactile Learning Into Your Studies
Now, you might be wondering how you can incorporate tactile learning into your study routine. It's easier than you might think, and here are a few examples to get you started.
If you're studying biology, try creating a 3D model of a cell structure using playdough or clay. If you struggle to remember historical dates, consider making a timeline using illustrations or acting out historical events with your friends. The possibilities are endless, and they make learning an enjoyable and immersive experience.
Tactile Learning Beyond the Classroom
One of the wonders of tactile learning is that it doesn't have to be confined to the four walls of a classroom. The world is your oyster when it comes to hands-on education.
Field Trips and Excursions
Immerse yourself in the wonders of nature or the marvels of historical landmarks through educational field trips and excursions. Whether visiting a botanical garden to understand the intricacies of plant life or exploring a museum to witness history come alive through artifacts and exhibits, these experiences provide invaluable opportunities to engage with your surroundings and deepen your understanding of various subjects.
Community Involvement and Workshops
Alternatively, you can participate in community workshops, volunteer initiatives, and hands-on projects to apply your knowledge in real-world scenarios.
Whether it's joining a local environmental cleanup drive, participating in a community garden project, or contributing to a neighborhood art installation, these activities not only reinforce classroom teachings but also foster a sense of social responsibility and empathy, nurturing a holistic approach to learning and personal development.
Educational Travel and Cultural Immersion
Embark on educational travel adventures and cultural immersion experiences that expose you to different perspectives, traditions, and customs. Whether it's exploring ancient ruins, observing traditional craftsmanship in a local village, or interacting with indigenous communities, these encounters give you the opportunity to engage with diverse cultures firsthand, promoting cross-cultural understanding and global awareness.
Internships and Vocational Training
Another tip is to seek internships, apprenticeships, or vocational training programs that allow you to apply your academic knowledge in professional settings. For example, you can intern at a research laboratory, apprentice with a skilled artisan, or participate in a technical training program. These practical experiences provide you with invaluable hands-on skills and industry insights to prepare you for the demands and challenges of the professional world.
Interactive Technology and Virtual Simulations
Apart from going outside and exploring what the world offers, you can also dive into interactive technology and virtual simulations. These digital counterparts can simulate real-world scenarios and environments.
Whether it's using virtual reality (VR) simulations to explore distant planets, engaging in augmented reality (AR) applications to dissect complex biological structures, or utilizing simulation software to design and construct architectural models, these technological advancements enable you to experience and interact with complex concepts and phenomena in a virtual yet immersive setting.
By embracing these opportunities beyond the classroom, you can broaden your horizon, cultivate a deeper appreciation for the world around you, and develop the practical skills and knowledge necessary to navigate the complexities of an ever-evolving society.
When integrated with real-world experiences, tactile learning can transform your education into a vibrant and dynamic journey of exploration, discovery, and personal growth.
The Future of Education Is Tactile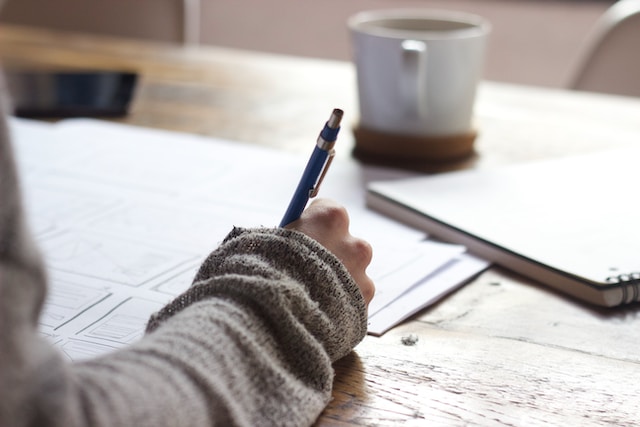 As education evolves, tactile learning becomes an integral part of this transformation. From virtual reality simulations to augmented reality experiences, technology is making tactile learning more accessible and engaging than ever before.
Get ready to embrace a future where learning is not just about reading and listening but also about touching, feeling, and experiencing.
The Takeaway: Embrace the Fun of Learning
In a nutshell, tactile learning isn't just about memorizing facts and figures — it's about experiencing the joy of learning in its truest form. By incorporating tactile learning into your educational journey, you're not only enhancing your understanding of various subjects but also fostering a genuine love for learning.
So, the next time you struggle to comprehend a complex concept, remember that a hands-on approach might be the key to unlocking your full potential.
FAQs
What is an example of tactile learning?
Tactile learning includes learning and understanding different concepts through touch and physical interaction. For instance, learning how to identify shapes by touching different shapes.
What is the difference between tactile and kinesthetic learning?
Tactile learning involves learning through the sense of touch, but kinesthetic learning also includes learning via physical movement.
What is Tactual learning?
Tactile learning is also called tactual learning. It means learning something through the sense of touch and physical interaction.
What are the skills of a tactile learner?
The skills of tactile learning involve learning and excelling in new skills via hands-on activities and manipulating objects.
References