Parents of middle school students — school work doesn't have to be this difficult.
Can middle school really be stress-free?  Or is that a total impossibility?
Parents, if you've ever had your middle school student come home frustrated, not entirely sure how to make headway at school, or disorganized, or stressed to the point that they just want to watch TV instead of deal with school, you're not alone.  You're also not in a hopeless situation.  Your students can learn specific strategies for dealing with stress, improving organization, and being prepped for every test so that they walk in confident and unafraid.
---
OK, so "stress-free" is probably impossible in middle school.  Nonetheless, we're going to show you why the stereotypical stressed-out middle school student isn't the only option, including:
The stress, the discouragement, and the pain of adjusting to a new workload isn't necessarily required

Why basic mastery over just 4 key skill areas can help your student feel confident in every class throughout middle school

How one strategy can transform a backpack from an organizational trainwreck into a tool for success
See if this sounds familiar…
---
We had a student recently talk to us about school in these terms:
"I don't like school.  I think it's boring and kind of a waste of time.  It's frustrating."  If you've ever gone through something that's as big of a change as middle school is, you know why they are feeling that way.  Change in general tends to be difficult for most of us.
Futhermore, middle school is a uniquely difficult transition for most people.  Think about all that changes:
The things surrounding the school itself — new teachers, new buildings (usually), and, typically, new experiences like changing classrooms for the first time
Extremely personal changes for every student (no need to elaborate here I trust?)
Social changes, including new groups of people and new ways of interacting
Responsibilities — this is tremendously different when students reach middle school
When students experience this kind of change, it's no wonder so many students experience stress, discouragement, and frequently a lot of personal pain.
However, the massive amounts of change aren't necessarily a sentence of three years of stressed out students.

Here's why How to Study in Middle School can help
---
We designed this course for students who are in the same boat as your students.
Here's how we describe that boat: un-taught.  Whether or not that's a word, here's the reality behind it.  Far too many of our students have never actually learned how to study.  They've just been thrust into a classroom with homework to do, books to read, and exams to take.  But they've never been taught how to excel in those environments.
Imagine receiving no training at all for the skill you were going to have to spend 40+ hours doing each week.  That's basically the state your middle school students are in every week.  They likely didn't need study skills in elementary school; now, however, they're suddenly finding a need to learn faster, remember more, and be better prepared.  They've just never been taught how.
Now, don't get me wrong.  We don't want to force your students into working long hours and missing out the fun of life.  Actually, the opposite is the case.  We're convinced that fun in life is one of the best teachers.  Because of that, we want your students having the skills to:
Handle the stress by staying organized, productive, and academically successful
Get the best retention from their test prep each week — so they can do less of it
Maximize learning in class, during homework, and during test prep — so they can get better grades with less stress
In short, by learning the skills in the four areas taught in this course — note-taking, test prep, organization, and textbook reading — your student can develop more confidence that they'll carry with them through their entire academic career.
A Real-Life Example of what we mean:
A mom of two middle school boys came to us.  After her boys learned just one single strategy — the StudyRight approach to organization — she said that their backpacks and stress-loads were transformed.  They were like most middle school boys (meaning their backpacks were total organization trainwrecks, and it was impacting their stress levels and their grades).  The study skills they learned around organization immediately transformed their backpacks into tools for success and helped these two boys gain massive confidence.
Why?  They knew what was going on, and they were in control.  Nothing multiplies stress like feeling out of control.
---
"Why can we trust StudyRight?" Valid question.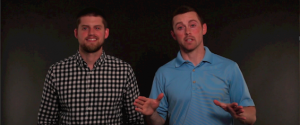 Our team of instructors are parents ourselves.  We know first-hand the importance of quality role models and trustworthy teaching.  Between our two instructors for this course, Kent and Skylar have: two master's degress, 15 high school varsity letters, 3 seasons as team captains, multiple all-state and all-conference awards, and upwards of a 3.9 life-long GPA.  Skylar graduated high school valedictorian, college summa cum laude, and with a 4.0 graduate school performance.  They both then spent several years coaching and tutoring high school and college students to hone in the research-based approach taught here.
While their track record alone may not be enough to satisfy you, consider two reviews by parents of middle school students:
"This class was perfect for my son. Before taking this class, my son was a huge procrastinator and his backpack was filled with crumpled papers. The course taught him how to organize and process his assignments. I highly recommend the class."

"A great investment! Although my children (7th & 9th graders) were good students, I knew that they really never learned how to study efficiently and effectively. Although I tried to teach them some study habits myself, I would consistently get the teenage pushback- "that won't work for me" or "my teacher won't let me organize my papers that way" or "you just don't understand". I spent a lot time researching various classes and ultimately decided to enrolled both my children in the live classes (Middle School & High School). Skylar and StudyRight exceeded my expectations and my kids! Skylar made the sessions fun and both of my kids actually looked forward to the weekly workshop. Skylar knows how to connect with his audience and makes it easy for the kids to ask questions. He was very responsive to emails and was very encouraging. I am confident that both of my kids will approach the upcoming school year with a new level of confidence and will utilize the study skills that they learned from Study Right."

What you get with "How to Study in Middle School"
---
StudyRight's mission for this course is pretty simple: make world-class study skills training available to thousands of middle school students at a price any family could afford.
While it's possible that your experience has been different, we found that study skills training programs were (and still are) rare.  Furthermore, most are rather costly.  For example, if learning centers offer study skills training, but most middle school students and their families can expect an average cost of between $2,800 and $10,000.  Additionally, finding a study skills tutor can still cost $40 or more hourly,  with the expectation that most tutors would require between 10-12 meetings.
In our courses, we have goal of enabling families to access an entire course for less than what you'd pay for one hour of another training option.  Also, the "How to Study in Middle School Course" comes with:
 A learning guide for maximizing learning and actually using these skills
42 short, skill-specific video lessons covering four study skills areas:

Textbook reading
Test Prep
Organization
Note-Taking

Free email reminders through the Study Skills Mastery list to help your student stay on track
4 Possible Study Skills certifications to help your student stay motivated and engaged
Unlimited access to the course for as long as your student wants it — even a years from now for a refresher
All of this content, certification quizzes for motivating learning, and the email reminders — all for only $39, less than what you'd pay for a single hour of a study skills tutor.
Start Your Middle School Student's Journey for Just $39
Enroll Now and Start Improving Today — $39
---
"I don't think an online course is the best fit for my middle schooler." We hear that a lot.
This concern is definitely valid. Still, online learning is growing every day, and there are plenty of reasons.  While we began StudyRight courses as live events, we've transitioned to entirely online for one reason: we can get more training to more families at a cost that is significantly reduced for them.  That said, we're still attaching a full refund promise to this course.  Tried it and it didn't work for your student?  No problem.  We'll repay your entire fee — which is less than one hour with a tutor.  You'd spend more than $39 on an assessment at a learning center — why not take the risk-free leap and try an online course (even if it's your first)?
And … we're throwing in a bonus:  
In addition to the video content, learning guides, and the email reminders for your studen, we're giving you access to a middle-school-specific organization checklist — a $9 value — FREE.  It will help your student start every semester out the right way — organized, prepared, and ready to make the most of the semester.  Just download the checklist when purchase the course.
Ready to start?  Don't wait another day to start your student's journey to success.
Enroll Now and Start Improving Today — $39
P.S.: Thinking, "Wow, could I have used that in school?"  So are a lot of parents reading this today.  Our goal is helping our students avoid some of the pain we went through.  We as a team are grateful for parents like you who go the extra mile for your kids.  Thanks.